From chicken bulgogi, to cordon bleu, here are some of our favorite chicken breast recipes boneless skinless which you'll be bound to enjoy, and best of all, they're all very popular and ready in 30 minutes or less.
1. Chicken Marsala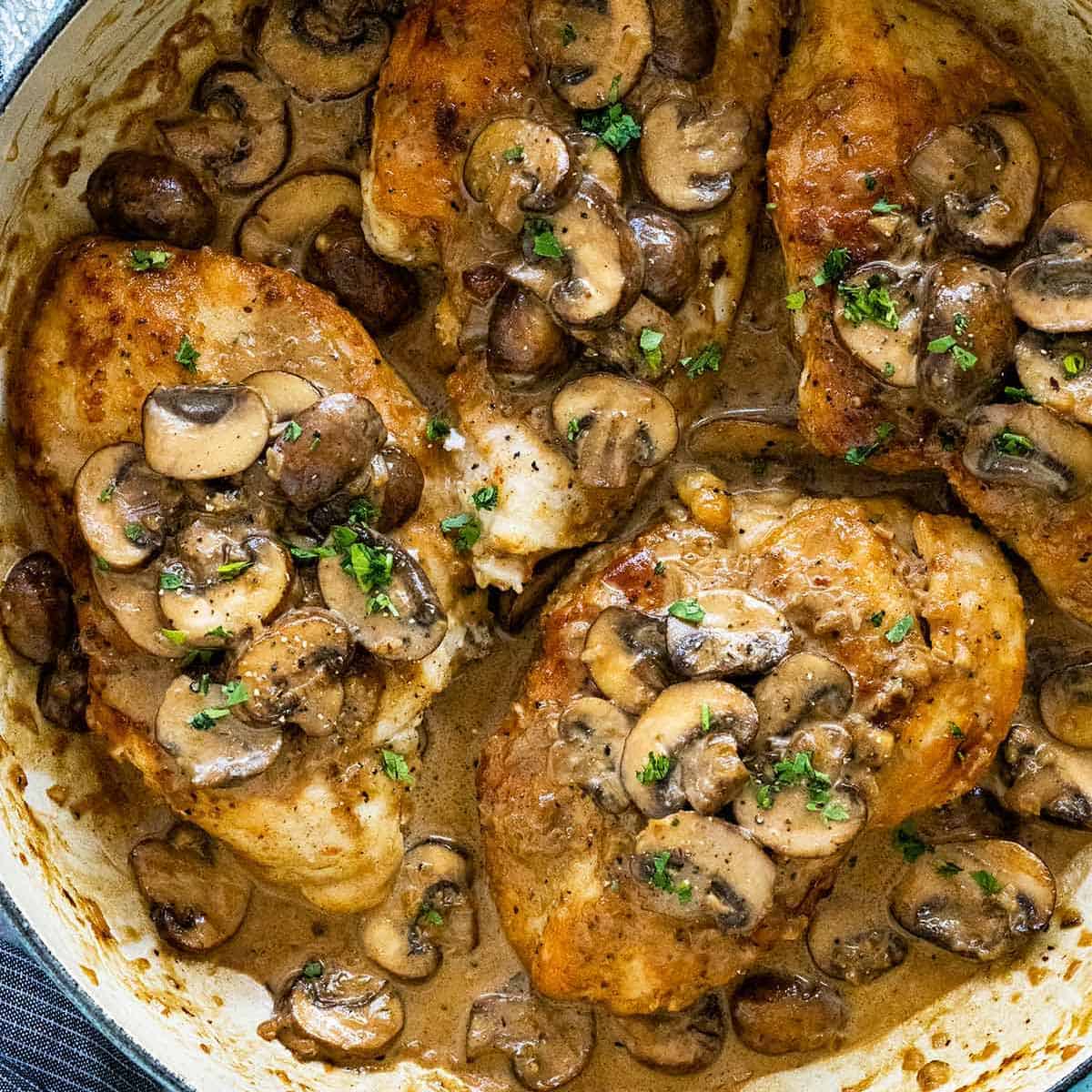 Chicken marsala is a good recipe for tender chicken breast mushroom sauce and marsala wine, and it's pan-fried.
It's packed full with meaty, rich, and herbaceous flavors, truly an unrivaled taste of culinary goodness.
For you to make this, you'll need the following ingredients
¼ teaspoon of black, ground pepper
½ teaspoon of dried oregano
¼ cup of all purpose flour
½ teaspoon of salt
A cup of sliced mushrooms
4 medium boneless, skinless chicken breast halves– pounded ¼ inch thick
4 tablespoons of olive oil
4 tablespoons of butter
¼ cup of cooking sherry
½ cup of marsala wine
How to prepare
Mix together salt, flour, oregano and pepper together in a shallow bowl. Use the flour mixture to coat the chicken pieces.
Melt butter in oil in a large skillet over medium heat and then place the chicken in the pan. Brown it lightly.
Turn the chicken pieces over and then add some mushrooms.
Pour in the sherry and wine.
Cover the skillet and simmer the chicken for up to 10 minutes, turn over once until the juices become clear and it's no longer pink.
2. Sandy's chicken saltimbocca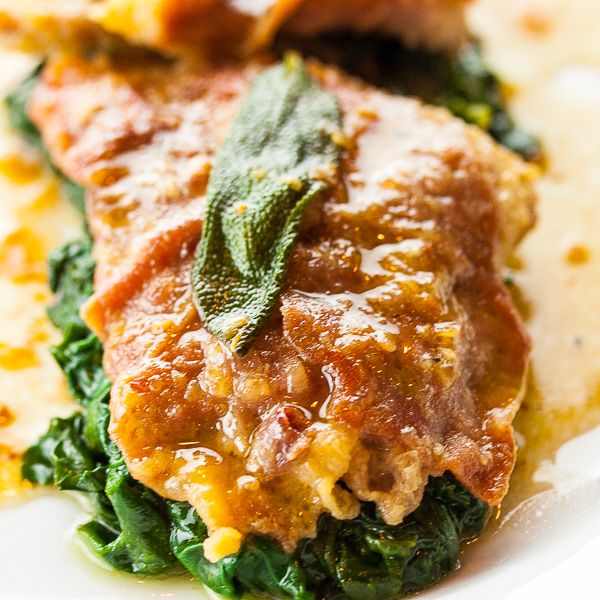 This dish is traditionally an Italian dish that's typically made with veal. However, in this recipe, we're going to be using chicken. You only need to taste this awesome combination to understand why the Italians love it so much.
To prepare this, you'll need the following ingredients
Fresh sage leaves for a bright and earthy flavor, preferably 15
½ teaspoon of black pepper
7 (7 ounce) chicken cutlets
A teaspoon of salt
3 tablespoons of olive oil
15 thin slices prosciutto
A cup of low sodium chicken broth
A cup of dry white wine
Half a stick of butter
How to prepare
Lay the cutlets between two sheets of wax paper (if they're thick) and then pound to half an inch thickness with the flat part of a meat mallet.
Sprinkle with salt and pepper and then put 4 small sage leaves on top of each of the cutlets.
Wrap 2 slices of prosciutto around each cutlets, crosswise, holding the sage in place.
Heat 2 teaspoons of oil in a large skillet with medium heat.
Add 4 cutlets and then cook until the centre is no longer pink and the juices have run clear already. This should be about 2 minutes per side.
Transfer it to a platter and then tent with foil in order for it to remain warm.
Repeat the process with the remaining oil and the remaining cutlets.
Add some wine to a skillet and then let it simmer. This should be done in about 1 and a half minutes.
Add some broth and let it simmer until it reduces slightly. This should be done in about 4 to 5 minutes.
Cut off the heat, and the butter and gently swirl your skillet until the butter melts completely and the sauce becomes creamy.
Add two tablespoons of salt over each cutlet and then serve.
3. Skillet chicken bulgogi (chicken breast recipes boneless skinless)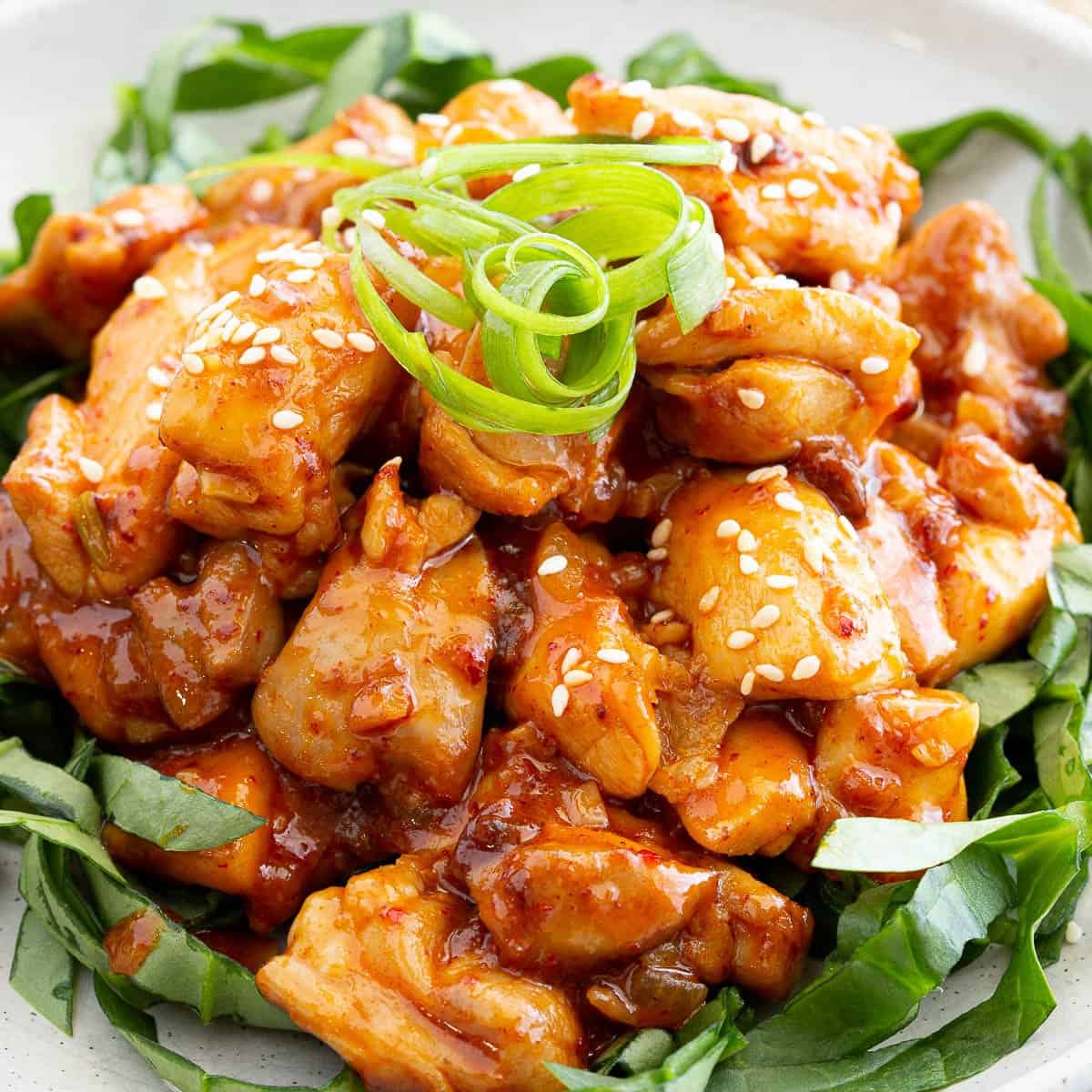 Skillet chicken bulgogi is a very tasty meal, and if you're interested in variety, you could substitute the chicken for pork. Best of all, it only takes about 30 minutes, if you get it right though.
To prepare this, you'll need these ingredients
2 tablespoons of minced garlic
5 tablespoons of soy sauce
¼ cup of chopped onions
2 tablespoons of sesame oil
2½ tablespoons of brown sugar
1½ teaspoons of cayenne
A teaspoon of sesame seeds
A pound of boneless, skinless chicken breast cut into thin strips
How to prepare
Thoroughly whisk the soy sauce, onions, garlic, brown sugar, sesame seeds, sesame oil, cayenne, black pepper, and salt together in a bowl. Do this until the marinade is very smooth.
Cook and continuously stir the chicken and marinade together inside a large skillet with medium-high heat until the chicken is cooked. This should take about 15 minutes.
You could add vegetables if you want. Some people even use sliced mushrooms and carrot straws to add some extra flavor. You can even substitute the sesame oil with peanut oil if that's what you want.