Eating healthy doesn't have to be a daunting task, and it most certainly doesn't have to taste less than the unhealthy junk foods. If you're looking for delicious and healthy foods/recipes, and you're not a fussy eater, you've come to the right place. Allow me walk you through some ideas.
1. Garlic oil chicken.
If you want to enjoy great tasting and healthy foods without too much stress, I'll advise you go for this.
To prepare this, all you need to do is to take some garlic, and slice it perfectly. The next step is to add a little butter into the pan and then saute the chicken with the garlic until everything becomes golden brown.
Garlic oil chicken is low in carbs and very good for keto.
More detailed procedure
To prepare garlic oil chicken, you'll first of all need these ingredients
400g of chicken thigh fillets
1tsp of sesame oil
1tsp of soy sauce
1tsp of corn flour
Half cup of vegetable oil
Salt to taste
¾ of tsp sugar
12 cloves of roughly sliced garlic
4 spring onions cut in about 5cm length
How to prepare
Cut the chicken into big pieces and combine with the sesame oil, corn flour, and soy sauce. Mix everything together thoroughly and set aside.
Heat up the vegetable oil in a wok and then add the garlic, make sure it's at medium heat.
Cook for about 5 to 10 minutes until the garlic becomes light brown. Remove the wok with a slotted spoon.
Raise the heat that's under the wok until it becomes high. When the oil has heated up, add the chicken and also the spring onions.
Toss the food for 5 minutes until the chicken is almost cooked through.
Add the sugar and also season the whole thing with salt. Wait until the sugar starts to turn into caramel and then return the garlic into the wok, toss to combine, and then serve on a plate. Food is ready.
2. Garlic oil chicken with cauliflower rice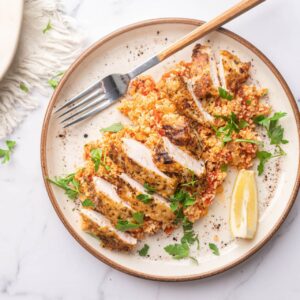 This is a splendid combo because the garlic taste really makes the chicken-taste more conspicuous. It's a nice meal to eat, very easy to make, and a great choice if you're too busy to cook.
More detailed procedures
To prepare garlic oil chicken with cauliflower rice, you'll need to have these ingredients
25g of parmesan
Half tsp of hot paprika
1 crushed garlic clove
Two sliced muscle food chicken breasts
One tsp of oregano
Half tsp of chilli flakes
A bag of cauliflower rice
Fresh parsley
Half a lemon. Juiced and zested
Low calorie oil spray
Salt and pepper
How to prepare
Mix the grated garlic, parmesan cheese, oregano, and paprika together.
Grind the pepper.
Mix the ground pepper (use a generous amount) and the grated garlic mixture together and then pour everything on the sliced chicken breasts.
Heat up the low calorie oil spray with low heat.
Cook the chicken breasts until they're cooked through and until both sides are golden.
Heat the cauliflower rice inside the microwave.
Once you've done that, mix the lemon juice, lemon zest, fresh parsley and parmesan with the cauliflower rice.
Add season to taste.
Serve the parmesan chicken on the cauliflower rice and add red chilli flakes, more parmesan, and some more parsley.
3. Lemonade shrimp scampi with zucchini mixed noodles
Shrimp can be prepared by different methods. However, one of the surest ways to ensure it's both delicious and healthy is to combine it with zucchini.
All you need to do is to saute the shrimp plus the zucchini with a few other additional ingredients and then serve it up with noodles.
More detailed procedures
To make lemonade shrimp scampi with zucchini noodles, you'll need these ingredients
2 large zucchini
1 pound of peeled, deveined shrimp with the tail removed
Half tsp of pepper
¾ tsp kosher salt
3tbsp virgin olive oil
Half a cup of finely chopped shallot
1tsp of minced garlic
½ cup of heavy cream
½ cup of white dry wine
2tbsp basil leaves
A quarter cup of chopped flat leaf parsley
A tbsp of lemon juice as well as lemon zest
How to prepare it
Attach the spiralizer attachment to the kitchen aid stand mixer.
Clip off the ends of the zucchini.
Center a zucchini on the fruit and vegetable skewer, and then attach to the spiralizer.
Attach the spiralizer blade and then position it at the end of the zucchini.
Place a bowl below the blade to collect the zucchini that's been spiralized.
Turn the mixer to speed 4 and continue the process until the blade reaches the end of the zucchini.
Repeat this process with the remaining zucchini pieces and then cut the zucchini noodles to the needed length.
Heat up a large skillet over medium heat.
After that, add two tbsps of olive oil to the pan.
Add some shrimps, salt, pepper, garlic, and shallots
Saute for one minute.
Remove partially cooked shrimp and set it on a plate. Also cover it to keep it warm and safe.
Keep on sautéing the garlic and shallots for just a minute.
Add wine into the pan, and then simmer. Keep reducing by half for two minutes.
Add a teaspoon of lemon juice, lemon zest, and cream.
Bring the whole thing to simmer until it's a bit thick.
Heat up another large skillet with a medium heat.
Add one tsp of olive oil to the pan.
Add the zucchini noodles and then sprinkle with salt and pepper.
Cook the noodles and keep tossing it with tongs until its a bit soft.
Add some shrimp back into the cream sauce and saute until it's thoroughly cooked.
Stir the whole thing in parsley and then squeeze a tsp of lemon juice into the whole mixture.
Split the zucchini noodles among four bowls and then top with shrimp and sauce. Also sprinkle some torn basil into each of the bowls.
You can garnish the whole thing with lemon wedges if desired, otherwise you can serve it like that and eat.
4. Foil packets of pineapple barbecue chicken
This combination is an ideal combination. Very easy to prepare, healthy, requires few ingredients, and cooks quickly over a grill or in an oven.
The chicken breast is marinated in sweet and smoky barbecue sauce.
More detailed procedures
In order to make foil packets of pineapple barbecue chicken, you'll need the following ingredients
2 cups of fresh pineapple chunks (frozen works too)
4 boneless, skinless, chicken breasts
A diced red bell pepper
Fresh black pepper as well as coarse salt
A diced green bell pepper
2 teaspoons of dried garlic or 3 clove garlic, minced
1½ teaspoons of paprika, smoked
Half cup of barbecue sauce
A teaspoon of dried oregano
2 tablespoons of olive oil
1 sliced jalapeño
Some chopped cilantro
2 tablespoons of lemon juice, fresh.
How to prepare
First of all preheat your oven to 350°F.
Spread four 12 by 12 inch foil on your work surface.
Put some bell peppers and pineapple chunks on the middle of each spread-out foil.
Season with pepper and salt and then top with each of the chicken breast.
Season the chicken with pepper and salt generously.
Get another bowl.
Combine the paprika, olive oil, BBQ sauce, cilantro, oregano, minced garlic, jalapeño and lemon juice.
Share the sauce with each of the packs of chicken and then add some chopped cilantro.
Fold the foils and pinch at the ends to ensure its shut.
Transfer the foils to a baking sheet and then bake for about 40 minutes or until the vegetables in the food are well cooked.
When the food is done, open the foil packs and drizzle with some more sauce.
Broil for about 2 minutes to make the chicken more crisp.
Serve the meal immediately and garnish with some more cilantro