If you're looking for a delicious, hearty chili recipe, then look no further than this Panera Turkey Chili Recipe. Not only is it incredibly easy to make, but it's packed with flavor and nutrition, making it the perfect dish to add to your dinner rotation.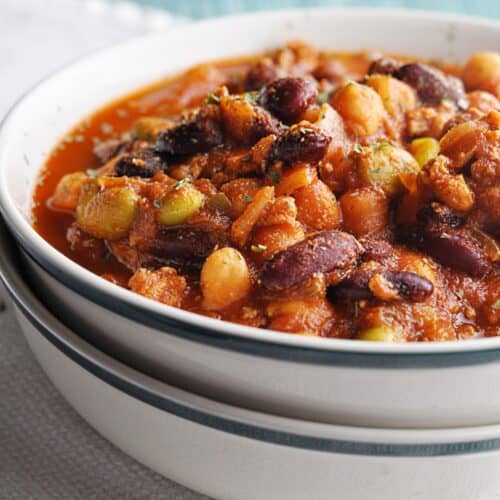 This turkey chili recipe is sure to become a family favorite, as it's made with wholesome ingredients like lean ground turkey, kidney beans, corn, and flavorful seasonings. Plus, it's ready in just about 30 minutes, so you can enjoy a hot bowl of chili without all the fuss.
What is Panera Turkey Chili?
Panera Turkey Chili is a delicious and hearty soup that's made with ground turkey, beans, vegetables, and flavorful spices. This chili is a popular dish at the Panera Bread restaurant chain, and now you can enjoy it in the comfort of your own home.
One of the things that sets Panera Turkey Chili apart is its unique blend of spices and seasonings. The chili powder, cumin, oregano, and smoked paprika work together to create a rich and smoky flavor that's sure to please your taste buds.
In addition to the spices, this chili is loaded with healthy ingredients like ground turkey, kidney beans, black beans, corn, and bell peppers. Not only is it delicious, but it's also a great way to get in some protein and veggies.
Ingredients for Panera Turkey Chili
Panera Turkey Chili is a hearty and nutritious dish that can be enjoyed year-round. The recipe uses a combination of fresh ingredients and spices to create a delicious flavor profile. Here are the ingredients you will need:
1 pound ground turkey

1 tablespoon olive oil

1 large onion, diced

3 cloves garlic, minced

1 red bell pepper, diced

1 green bell pepper, diced

1 can black beans, drained and rinsed

1 can kidney beans, drained and rinsed

1 can diced tomatoes

2 tablespoons tomato paste

2 cups chicken broth

2 teaspoons ground cumin

1 teaspoon smoked paprika

1 teaspoon chili powder

Salt and pepper to taste
All of these ingredients are easily available at your local grocery store. It is important to use fresh ingredients to get the best possible flavor. If you prefer, you can substitute ground beef or chicken for the turkey. Also, feel free to adjust the spices according to your taste preferences. The end result should be a warm and flavorful bowl of chili that will leave you feeling satisfied and content.
Directions for making Panera Turkey Chili
Heat a large pot over medium heat. Add ground turkey and cook until browned, breaking it up into small pieces as it cooks.

Add onion, garlic, and bell pepper to the pot and cook until the vegetables are soft, stirring occasionally.

Add chili powder, cumin, paprika, and oregano to the pot and stir to combine with the meat and vegetables.

Pour in diced tomatoes, tomato sauce, and chicken broth and stir to combine.

Add kidney beans and corn to the pot and stir to combine. 

Bring the chili to a simmer and cook for 30 minutes, stirring occasionally.

Serve hot with desired toppings, such as shredded cheese, sour cream, or chopped scallions.
Note: This recipe can also be made in a slow cooker by combining all ingredients and cooking on low for 6-8 hours or high for 3-4 hours.
Read Also: Juicy Crab Sauce Recipe: Cook In 30 Mins
Tips For The Best Panera Turkey Chili
To make the best Panera Turkey Chili, here are some helpful tips to keep in mind:
Choose high-quality ground turkey: Look for lean ground turkey with a low fat content. This will ensure that your chili is flavorful and not too greasy.

Use fresh spices: For optimal flavor, use fresh spices instead of pre-packaged ones. Toast the spices in a dry pan for a few minutes before adding them to the chili to enhance their fragrance and taste.

Don't skip the tomato paste: Adding tomato paste may seem like an extra step, but it adds depth and richness to the chili. It helps to develop a more intense flavor profile.

Let it simmer: Allow your chili to simmer for at least 30 minutes to let the flavors meld together. This will result in a more flavorful and well-rounded chili.

Customize your toppings: Serve your Panera Turkey Chili with a variety of toppings to make it even more delicious. Consider options like shredded cheese, sour cream, chopped scallions, or even some crushed tortilla chips for added crunch.

Make it ahead of time: Chili often tastes even better the next day as the flavors continue to develop. Consider making a big batch and enjoying it throughout the week or freezing some for later.
By following these tips, you can make the best Panera Turkey Chili that will impress your family and friends with its robust flavor and satisfying warmth. Enjoy!
Serving suggestions for Panera Turkey Chili
Once you have whipped up a batch of delicious Panera Turkey Chili, you may be wondering how to serve it up. Fortunately, this versatile dish can be paired with a variety of tasty sides and toppings to make a complete meal.
One classic pairing for chili is a warm and crusty slice of bread. Consider toasting up a baguette or slicing up a hearty loaf of sourdough to serve alongside your chili. You can even slather the bread with butter or garlic spread for an extra kick.
Another option is to top your chili with a variety of flavorful garnishes. Shredded cheese, diced avocado, and chopped cilantro can all add color and flavor to your chili. You can also spoon some sour cream or plain Greek yogurt on top for a cool and creamy contrast.
If you want to add a bit more substance to your meal, consider serving your chili over a bed of rice or quinoa. This will help absorb the rich flavors of the chili and give you a filling and nutritious meal.
No matter how you choose to serve your Panera Turkey Chili, one thing is for sure: this dish is sure to please a crowd. With its bold and hearty flavors, it is the perfect choice for a cozy night in or a family dinner.
Conclusion
In conclusion, Panera Turkey Chili is a flavorful and healthy dish that is easy to make at home. With a few simple ingredients and some easy steps, you can recreate the deliciousness of the popular Panera soup in your own kitchen. This recipe is perfect for those who want a nutritious meal without compromising on taste. 
Plus, you can customize the chili to your liking by adjusting the level of heat or adding extra ingredients. Whether you enjoy it on its own or pair it with some bread or salad, Panera Turkey Chili is sure to become a household favorite. So, don't hesitate to try this ultimate recipe and enjoy a warm, comforting bowl of goodness any time of the year!