Most processed foods have gluten in them, which of course includes bread and pasta. However, there are people with terrible gluten sensitivity which could lead to serious health problems, this makes them cautious about whether or not gluten is present in their foods. Without wasting much time, I'd like to share with you a fit philosophy healthy gluten free easy recipes.
Preparing gluten free dish is much easier than most people think. You just have to be well organized so you can cook your foods in advance and store it in the fridge for future use.
Okay, this is dragging on. I'm going to share with you quick and easy recipes that won't take you much effort
1. Gluten free banana muffin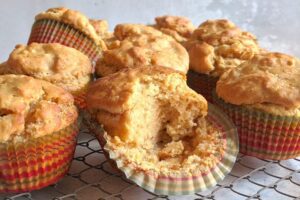 You can use gluten free flour as the basis of this meal, and gluten free flour is readily available in different stores. The ingredients needed include
270g of gluten-free flour
350g of crushed bananas
2 eggs
2tbsps of baking powder
Half teaspoon of salt
50g of chopped walnut
Half teaspoon of xanthan gum
110g of unsalted butter
Half teaspoon of cinnamon
A quarter teaspoon of baking soda
130g of granulated sugar
2 tablespoons of honey
How to prepare it
Grease your muffin tins and then preheat the oven to about 190°c.
Get a bowl and then mix the baking soda, cinnamon, xanthan gum, salt, yeast, and flour together thoroughly.
Beat the sugar, honey, and butter together thoroughly.
Crack the eggs, whisk, and pour it.
Add the dry ingredients you mixed earlier, in addition to the crushed bananas.
Beat thoroughly until smooth (preferably for about 45 seconds).
Add the nuts.
Pour the dough into the muffin tins.
Bake for 25 minutes until the insides become very soft.
Take it out of the oven and then leave it to rest for about 5 minutes before you take it out of the tins.
2. Banana and Oatmeal Pancake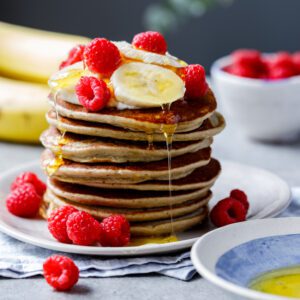 Banana and oatmeal pancake is made from oat flour. Oats are good for lowering your cholesterol levels. You'll need the following ingredients
2 eggs
A cup of oatmeal
2 tablespoon of melted butter
Half teaspoon of baking soda
Half teaspoon of salt
Half teaspoon of ground cinnamon
Half teaspoon of ground nutmeg
One teaspoon of lemon juice
One teaspoon of honey
A quarter cup of crushed banana
How to prepare it
Mix the crushed banana, butter, lemon juice and honey thoroughly in a bowl.
Beat the eggs into a bowl, add the baking soda, oatmeal, salt, ground nutmeg, and ground cinnamon to the eggs.
Pour the two mixtures into a bowl and mix together thoroughly.
Let the mixture rest for about 10 minutes, and if the mixture is too dry and hard, you can add a little water or milk.
Add some butter to the frying pan and heat up with low heat.
Once the pan becomes hot enough, pour a quarter cup of the mixture into the pan and then allow to cook for about 4 minutes. Do this until you start seeing bubbles forming around the edges.
Once you notice the bottom turning golden brown, flip with a spatula until the other side is golden brown too.
3. Egg stuffed tomatoes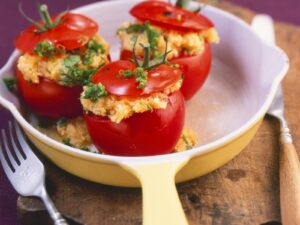 The tomatoes have big holes inside with which the eggs are baked. Egg stuffed tomatoes are rich in protein, gluten free, and contains vitamin K, C, and A. You'll need these ingredients
3 eggs
A tablespoon of olive oil
Grated parmesan
3 large tomatoes
A pinch of salt
A pinch of black pepper
A tablespoon of chopped chives
How to prepare it
You're going to learn how to do it for one tomato, and if it comes out right, you can then do it for multiple tomatoes.
Get a baking sheet as well as parchment paper.
Preheat the oven to about 200°c.
Cut off the top of a tomato and then use a small spoon to scoop out the insides.
Add the olive oil, the pinch of salt, and the pinch of pepper to the hollow tomato. Rub it around the insides.
Place in the oven and cook for about 10 minutes until the tomato is a bit softer.
Crack an egg and whisk it thoroughly.
Pour as much as can fit into the hollow tomato (that you brought out of the oven) and then place it back into the oven. Let it cook for 10 minutes or until the egg is cooked to your taste.
Garnish as desired with parmesan and chives.
You can then repeat the process for as much tomatoes as possible. Use the same ingredients with the same measurements, you can also crack the remaining eggs and use for the other tomatoes.
It doesn't have to be one egg to a tomato, just ensure it almost fills the hollow tomatoes. This means you can use 2 eggs for 4 tomatoes, depending on the size.
4. Greek-style scrambled eggs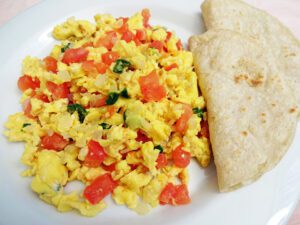 Greek-style scrambled eggs are rich in protein and will give you a sense of satisfaction that'll last long. This will prevent you from having to eat junk foods in between meals. You'll need the following ingredients
3 eggs
1 teaspoon of water
15g of butter
Salt and pepper
Half a cup of crumbled feta cheese
How to prepare it
Heat the butter into a skillet. Use medium heat.
Beat the eggs thoroughly, and then add the teaspoon of water into the mix.
Pour the mixture into a pan.
Add the feta cheese and then cook. Scramble the eggs by stirring occasionally
Season the whole thing with some salt and pepper to taste.
What's a nice alternative to butter?
If you don't want to use butter, you can use coconut oil instead. It's rich, lower in cholesterol, and of course, has that nice coconut-y taste and smell. You can also use vegetable oil.
What will happen to me if I eat gluten despite being gluten sensitive?
You'll develop a certain discomfort associated with gluten intolerance. You see, gluten is a protein found in a lot of foods including wheat, and wheat forms the basis of different types of flour. It's also found in barley, rye, and a lot of other grains. This means it'll be abundant in pasta, cereal, beer, and bread.
Gluten is also found in some cosmetic products as well as other medications.
Gluten sensitive people can get either of these two problems: Gluten intolerance (non celiac gluten sensitivity), or celiac disease.
Non celiac gluten sensitivity is a much milder case and will often cause nausea, tiredness, and bloating. It affects about 6% of the US population and affects mostly women in that statistic.
However, the celiac disease is much more serious. People suffering from celiac disease have a kind of autoimmune problem. This means, when gluten gets into the body, the body treats it aggressively like it's a foreign body.
It unfortunately results in problems with the digestive tracts as well as general inflammations. Celiac disease is caused by abnormal genes and it affects about 1% of the US population.