The summer months are upon us, and the heat is upon us. And what better way to cool down than with a delicious frozen treat? Well, we've got just the thing for you! Today, we are revealing our perfect frozen treat – Cottage Cheese Bark! 
This simple and easy-to-make recipe will be sure to satisfy your sweet tooth and cool you down on a hot summer day. With a variety of options for customization, you can make this frozen treat unique to your taste. Read on to learn more about this refreshing treat and how to make it!
What is Cottage Cheese Bark?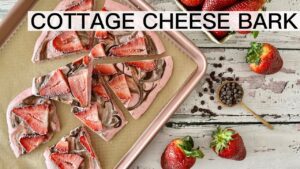 Cottage cheese bark is a delicious and healthy frozen treat made with cottage cheese, yogurt, and fruit. It's a perfect dessert or snack for hot summer days and a great way to incorporate some extra protein into your diet. 
The recipe is easy to make and the result is a smooth, creamy and refreshing treat that's lower in sugar and calories than traditional ice cream or frozen yogurt. You can add any kind of fruit you like, such as berries, bananas, mangoes, or peaches, as well as nuts or seeds for extra crunch. 
The cottage cheese gives this bark its creamy texture, while the yogurt adds a tangy taste and probiotics for gut health. Together, they create a protein-rich base that's low in fat and carbs. You can also choose a flavored yogurt to add some sweetness to the recipe. 
Ingredients for the Creamiest Cottage Cheese Bark
Cottage cheese is the main ingredient in cottage cheese bark, so choosing the right type of cottage cheese is key to getting the creamiest and smoothest texture. Here are the ingredients you need for the creamiest cottage cheese bark:
Full-Fat Cottage Cheese: Opt for full-fat cottage cheese as it has a richer and creamier texture than low-fat options.

Greek Yogurt: Greek yogurt adds extra creaminess and tanginess to the cottage cheese bark.

Honey: A natural sweetener that complements the tanginess of the cottage cheese and yogurt.

Vanilla Extract: Enhances the flavor and adds a hint of sweetness.

Salt: A pinch of salt helps to balance out the sweetness and enhances the flavors.
With these ingredients, you can make a creamy and indulgent cottage cheese bark that's still healthy and nutritious. Plus, you can easily customize the recipe with toppings or mix-ins to suit your taste preferences.
Step-by-Step: How to Create the Perfect Frozen Cottage Cheese Bark
Making cottage cheese bark is a simple and quick process. All you need are a few ingredients, a baking sheet, and a freezer. Here's a step-by-step guide to creating the perfect frozen cottage cheese bark:
Start by blending 1 1/2 cups of cottage cheese, 1/4 cup of honey, and 1/2 teaspoon of vanilla extract in a food processor until smooth. You can also add other flavors like cocoa powder, cinnamon, or fruit puree to customize your bark.

Line a baking sheet with parchment paper and pour the mixture onto it. Use a spatula to smooth it out into an even layer.

Sprinkle your desired toppings onto the mixture. Some options include chopped nuts, shredded coconut, chocolate chips, or dried fruit.

Place the baking sheet in the freezer for at least 4 hours, or until the mixture is fully frozen.

Once frozen, break the bark into bite-sized pieces and serve immediately. You can store any leftovers in an airtight container in the freezer for up to a week.
That's it! Creating the perfect frozen cottage cheese bark is as easy as that. It's a healthy and delicious treat that's perfect for satisfying your sweet tooth while still sticking to your dietary goals.
Customizing Your Bark: Tasty Toppings and Mix-ins
One of the best things about making cottage cheese bark is the ability to customize it to your taste preferences. Whether you prefer sweet, savory, or a little bit of both, there are plenty of tasty toppings and mix-ins you can use to make your bark even more delicious.
If you have a sweet tooth, try adding chopped fruit like strawberries, bananas, or mangoes. You can also drizzle some honey or maple syrup over the top for an extra touch of sweetness. For a crunchier texture, try adding some chopped nuts like almonds, pecans, or walnuts.
If you prefer a more savory snack, try adding some chopped herbs like basil, parsley, or cilantro. You can also sprinkle some sea salt or cracked pepper over the top for a little extra flavor. For a creamier texture, mix in some avocado or Greek yogurt.
For those who like a little bit of both, try adding some dark chocolate chips or cocoa powder for a hint of sweetness and a rich, chocolaty flavor. You can also add some shredded coconut or granola for a little extra texture and crunch.
Overall, the possibilities for customizing your cottage cheese bark recipe are endless. Have fun experimenting with different flavors and toppings to create the perfect frozen treat for your taste buds.
Read Also: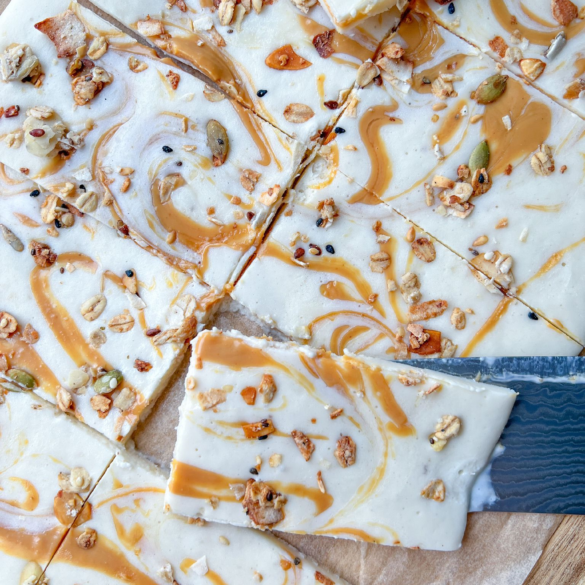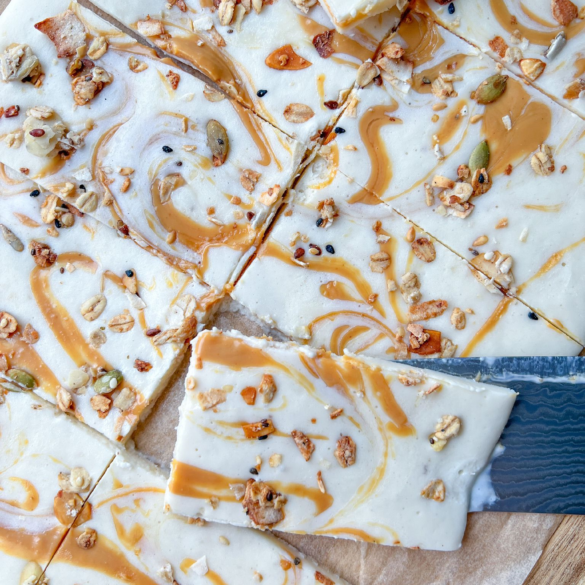 Conclusion
Cottage Cheese Bark is an excellent and healthy option for those looking for a frozen treat to satisfy their cravings without compromising their health goals. This creamy and flavorful dessert is versatile, customizable, and easy to make, making it an ideal choice for anyone who wants a healthy alternative to ice cream or other high-calorie desserts. 
In this article, we have shared with you all that you need to know to create the perfect Cottage Cheese Bark. From the ingredients required to step-by-step instructions, and toppings to mix-ins, we've covered it all. 
Customize your Cottage Cheese Bark recipe with your favorite toppings and mix-ins, whether you prefer sweet or savory. This way, you can enjoy a unique dessert experience every time you indulge in this delicious frozen treat. 
In conclusion, we hope that you found this article helpful in creating the perfect Cottage Cheese Bark recipe. Try it today and let us know your favorite toppings and mix-ins! Remember, Cottage Cheese Bark is not only a healthy and guilt-free dessert option, but it's also easy to make and delicious.