Meat Church Chili is a hearty and flavorful chili recipe that is sure to warm you up on a cold day. This chili is made with a variety of meats, including ground beef, chuck roast, and hot breakfast sausage. It is also seasoned with a variety of spices, including chili powder, cumin, garlic powder, and onion powder.
In this comprehensive and highly detailed recipe article, we will guide you through the steps to create this mouthwatering Meat Church Chili, bringing the aroma and taste of a Texas BBQ to your kitchen.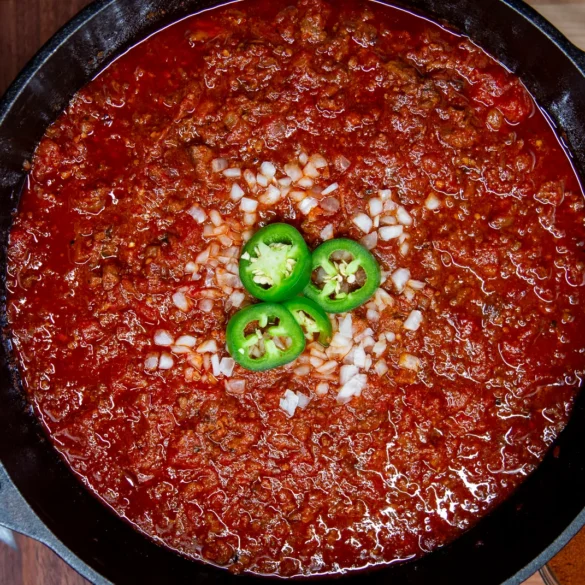 Ingredients
2 pounds ground beef (80% lean)

1 pound beef stew meat, cubed

1 medium yellow onion, diced

1 green bell pepper, diced

4 cloves garlic, minced

1 (14.5 oz) can diced tomatoes

1 (15 oz) can tomato sauce

1 (6 oz) can tomato paste

2 (15 oz) cans kidney beans, drained and rinsed

2 tablespoons Meat Church Holy Cow BBQ Rub (or your favorite BBQ rub)

3 tablespoons chili powder

2 tablespoons ground cumin

1 tablespoon paprika

1 teaspoon cayenne pepper (adjust to your preferred level of spiciness)

2 tablespoons vegetable oil

3 cups beef broth

Salt and pepper to taste

Optional toppings: shredded cheddar cheese, chopped green onions, sour cream, sliced jalapenos
Instructions:
Brown the Meat:

In a large, heavy-bottomed pot or Dutch oven, heat the vegetable oil over medium-high heat. Add the ground beef and cubed stew meat to the pot. Cook until the meat is browned and fully cooked, breaking up any large chunks of ground beef as you stir.

Saute the Aromatics

: Add the diced onions, green bell pepper, and minced garlic to the pot. Saute for about 3-4 minutes until the vegetables soften and become aromatic.

Spice It Up:

Add the Meat Church Holy Cow BBQ Rub (or your preferred BBQ rub), chili powder, ground cumin, paprika, and cayenne pepper to the pot. Stir well to coat the meat and vegetables with the spices. Let the spices cook for about 1-2 minutes to release their flavors.

Tomato Base:

Stir in the diced tomatoes, tomato sauce, and tomato paste into the pot, combining everything thoroughly. The tomato base will add richness and depth to the chili.

Beans In

: Add the drained and rinsed kidney beans to the pot. The beans contribute not only to the heartiness but also to the nutrition of the chili.

Beef Broth Addition:

Pour in the beef broth, ensuring it covers all the ingredients in the pot. The beef broth will help create a flavorful and savory chili base.

Simmer Away

: Bring the chili to a boil, then reduce the heat to low. Cover the pot and let the chili simmer for about 1.5 to 2 hours. This slow simmer allows the flavors to meld and the meat to become tender and succulent.

Season to Taste

: Taste the chili and adjust the seasoning with salt and pepper according to your preference. If you prefer a spicier chili, you can add a bit more cayenne pepper or a dash of hot sauce.

Serve and Enjoy

: Ladle the Meat Church Chili into bowls, and garnish with your favorite toppings, such as shredded cheddar cheese, chopped green onions, sour cream, and sliced jalapenos. Each spoonful will be a taste of Texas BBQ heaven!
Serving Suggestions
Cornbread: Serve the Meat Church Chili with a side of freshly baked cornbread. The combination of chili and cornbread is a match made in culinary heaven.

Fritos: Create a delicious Frito Pie by serving the chili over a bed of Fritos corn chips. Top it off with your favorite chili toppings for a Tex-Mex delight.

Chili Dogs: Use the chili as a flavorful topping for hot dogs. Top with shredded cheese and diced onions for a hearty chili dog experience.

Loaded Nachos: Turn the chili into a scrumptious topping for loaded nachos. Layer tortilla chips with chili, cheese, jalapenos, and black olives, and bake until the cheese is melted and bubbly.
Conclusion
The Meat Church Chili recipe is a truly satisfying and flavorful dish that brings the spirit of Texas BBQ to your table. With its tender meat, aromatic spices, and hearty beans, this chili is a comforting and versatile meal option. 
Whether you enjoy it on its own, paired with cornbread, or as a topping for Fritos, hot dogs, or nachos, the Meat Church Chili is sure to be a crowd-pleaser at gatherings and family meals. So, gather your ingredients, fire up your stove, and savor the delicious taste of this Meat Church masterpiece!