Shrimp fries, also known as shrimp-loaded fries, are a delicious and indulgent dish that combines the savory flavors of shrimp with the comforting goodness of crispy fries. This mouthwatering fusion of seafood and potatoes is a favorite among seafood enthusiasts and is sure to be a hit at any gathering or mealtime. 
In this comprehensive recipe guide, we will take you through the steps of creating the perfect shrimp fries that will tantalize your taste buds and leave you craving for more.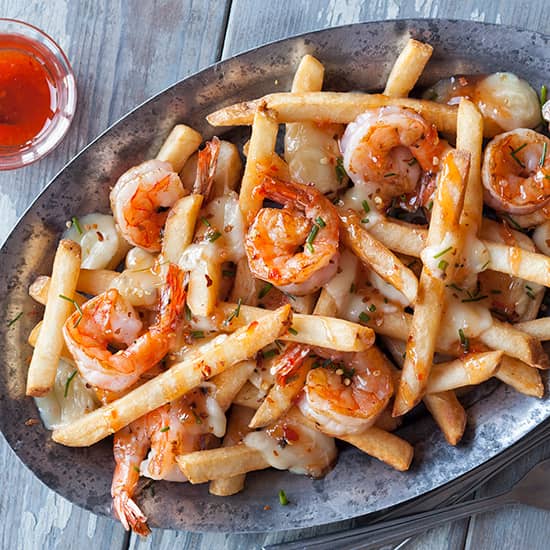 For the Shrimp:
1 pound medium to large-sized shrimp, peeled and deveined

1 tablespoon olive oil

2 cloves garlic, minced

1 teaspoon paprika

1/2 teaspoon salt

1/4 teaspoon black pepper

1/4 teaspoon cayenne pepper (adjust to your preferred level of spiciness)

1 tablespoon fresh lemon juice

2 tablespoons chopped fresh parsley (for garnish)
For the Fries:
4 large russet potatoes, peeled and cut into thick fries

2 tablespoons cornstarch

2 tablespoons olive oil

1/2 teaspoon salt

1/4 teaspoon black pepper

1/4 teaspoon garlic powder

1/4 teaspoon paprika
For the Shrimp Fry Sauce:
1/2 cup mayonnaise

1 tablespoon ketchup

1 teaspoon Dijon mustard

1 teaspoon Worcestershire sauce

1 clove garlic, minced

1 tablespoon fresh lemon juice

Salt and pepper to taste
Instructions:
In a mixing bowl, combine the olive oil, minced garlic, paprika, salt, black pepper, cayenne pepper, and fresh lemon juice. Stir the mixture until well combined.

Add the peeled and deveined shrimp to the bowl, tossing them in the marinade to coat evenly. Cover the bowl with plastic wrap and refrigerate for at least 30 minutes to allow the flavors to infuse.
Preheat your oven to 425°F (220°C). Line a baking sheet with parchment paper or lightly grease it.

In a large mixing bowl, add the peeled and cut potatoes. Sprinkle cornstarch over the potatoes, tossing them to ensure even coating. The cornstarch will help achieve crispy fries.

Drizzle olive oil over the potatoes, and season with salt, black pepper, garlic powder, and paprika. Toss the potatoes again to evenly distribute the seasoning.

Spread the seasoned potatoes in a single layer on the prepared baking sheet, ensuring they are not overcrowded. This helps the fries crisp up during baking.

Bake the fries in the preheated oven for about 20-25 minutes or until they turn golden brown and crispy. Flip the fries halfway through the baking time to ensure even cooking.
Cook the Shrimp
Heat a large skillet over medium-high heat. Add the marinated shrimp to the skillet, arranging them in a single layer.

Cook the shrimp for 2-3 minutes on each side until they turn pink and opaque. Be careful not to overcook the shrimp to keep them tender and juicy.
Prepare the Shrimp Fry Sauce
In a small bowl, combine the mayonnaise, ketchup, Dijon mustard, Worcestershire sauce, minced garlic, fresh lemon juice, salt, and pepper. Stir until the sauce is smooth and well blended.
Assemble the Shrimp Fries
Arrange the crispy fries on a serving platter or individual plates.

Top the fries with the cooked shrimp, spreading them out evenly.

Drizzle the Shrimp Fry Sauce generously over the shrimp and fries.

Garnish with chopped fresh parsley for a burst of color and freshness.
Serve and Enjoy
Serve the delicious shrimp fries immediately while they are still warm and fresh.

These delectable shrimp-loaded fries make a fantastic appetizer, party snack, or even a main course for seafood lovers.
Conclusion
Shrimp fries are a delightful combination of succulent shrimp and crispy fries, creating a mouthwatering dish that will delight your senses. With the savory flavors of the marinated shrimp complemented by the crispy texture of the seasoned fries, this recipe is a crowd-pleaser and an excellent addition to your culinary repertoire. 
Whether you're hosting a gathering or simply craving a satisfying seafood treat, the shrimp fries recipe is a perfect choice for an unforgettable dining experience. So, grab your ingredients, fire up your oven, and indulge in the delightful fusion of flavors with these irresistible shrimp-loaded fries!