Hey there, snack enthusiasts and foodies! Get ready to dive into a world of mouthwatering deliciousness with our incredible Pretzel Crack recipe. If you're a fan of that perfect mix of sweet and salty flavors (who isn't, right?), then you're in for a treat. Whether you're hosting a get-together, satisfying a late-night craving, or just looking to impress your taste buds, this recipe has got you covered.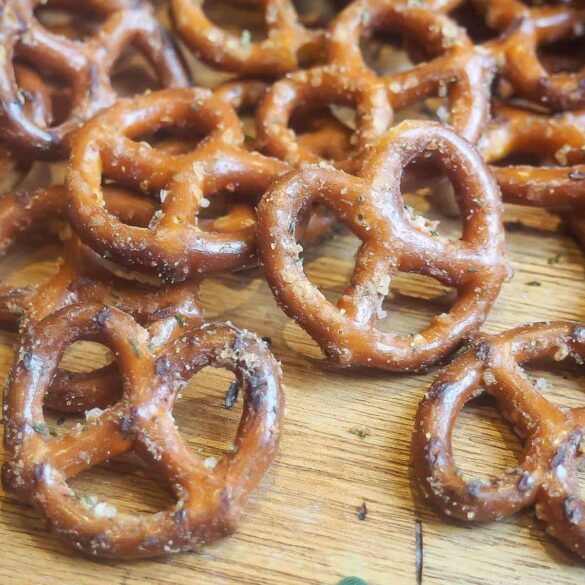 We'll walk you through every step of creating this snack-time masterpiece, and we've even got some awesome variations to suit your own snacking style. Get those aprons on and let's whip up some pretzel crack magic!
Ingredients:
3 cups mini pretzels

1 cup unsalted butter

1 cup packed light brown sugar

1 teaspoon vanilla extract

1 ½ cups semi-sweet chocolate chips

½ cup chopped nuts (pecans, walnuts, or almonds), optional

Sea salt flakes for sprinkling, optional
Instructions:
Preparation: First things first, preheat your oven to a toasty 350°F (175°C) and grab a baking sheet. Line it with parchment paper and lay out those mini pretzels in a neat single layer. They're about to become your snacking canvas!

Caramel Wonder: Time to make that ooey-gooey caramel sauce. In a saucepan over medium heat, melt your unsalted butter and add in the brown sugar. Let this delightful mixture bubble away for about 3-4 minutes, making sure it's all smooth and happy. Then, give it a flavor boost with that vanilla extract. Yum!

Pretzel Bath: Pour that luscious caramel goodness all over your pretzels. Don't hold back – coat them like you're painting a masterpiece. Use a spatula to gently mix and make sure each pretzel gets its fair share of caramel love.

Baking Fun: Pop your pretzel creation into the oven and let it bake for 10 minutes. This helps that caramel seep into every nook and cranny, ensuring each bite is a flavor explosion.

Chocolate Magic: Time for the chocolate party! As soon as your pretzels are out of the oven, sprinkle those semi-sweet chocolate chips on top. Watch them transform into a velvety pool of deliciousness. Give it a few minutes, then grab that spatula again and spread that melted chocolate all over the pretzels. It's like giving them a cozy chocolate blanket.

Nutty Upgrade: Feeling nutty? Go ahead and sprinkle some chopped nuts – pecans, walnuts, or almonds – onto the chocolate-covered pretzels. These little guys add a satisfying crunch that takes your pretzel crack to the next level.

Chill Time: Now, let's be patient and pop that baking sheet in the refrigerator for about an hour. You want that chocolate layer to set perfectly. Trust us, it's worth the wait.

Final Touch: Ready to indulge? Break your pretzel crack into irresistible pieces. If you're feeling fancy, sprinkle some sea salt flakes on top. It's like a secret flavor handshake that'll have your taste buds dancing.
Read Also: Red Lobster's Chicken Cobbler Recipe 
Creative Variations:
PB & J Twist: Before chilling, drizzle some creamy peanut butter on top of the chocolate. It's like a grown-up version of your favorite childhood sandwich!

Toffee Dream: Mix in toffee bits with your caramel sauce for an extra layer of sweet crunch.

White Chocolate Wonderland: Swap out those semi-sweet chocolate chips for white chocolate ones. It's a creamy dream come true.

Spice Up Your Life: Sprinkle a hint of cinnamon or a tiny dash of cayenne pepper for a surprising kick that'll wake up your taste buds.
Conclusion: 
There you have it, folks! Your ticket to snacking nirvana – the Pretzel Crack recipe that's sweet, salty, and absolutely addictive. Whether you're sharing it with pals, having a solo snacking moment, or getting creative with our awesome variations, get ready for a flavor explosion like no other. So, tie on that apron, gather your ingredients, and let the snacking adventure begin