Calling all food adventurers and culinary explorers! Prepare to embark on a flavor-packed journey through the heart of Texas with our mouthwatering Texas Mud recipe. From its intriguing name to its rich and indulgent taste, this dessert is a true embodiment of Southern comfort and charm.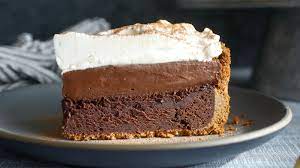 Whether you're hosting a barbecue, celebrating a special occasion, or simply treating yourself to a delectable treat, Texas Mud is the answer. In this blog post, we'll guide you through the art of creating this delightful dessert, highlighting its history, key ingredients, and step-by-step instructions. Get ready to dive into a world of gooey chocolate, creamy layers, and pure Texan bliss!
History and Origin: 
The origin of Texas Mud can be traced back to the Texan culinary landscape, where comfort foods reign supreme. Rooted in Southern tradition, this dessert draws inspiration from classic Texan flavors and the art of indulgence. Its name, "Texas Mud," is a nod to the rich, decadent nature of the dessert and its resemblance to the deep, earthy tones of Texan soil after a rain shower. Over the years, the recipe has evolved and adapted, becoming a cherished treat served at gatherings, potlucks, and family feasts across the Lone Star State.
Ingredients:
1 cup all-purpose flour

3/4 cup granulated sugar

1/4 cup unsweetened cocoa powder

2 teaspoons baking powder

1/4 teaspoon salt

1/2 cup whole milk

1/4 cup unsalted butter, melted

1 teaspoon vanilla extract

1/2 cup chopped pecans or walnuts (optional)

1 cup packed light brown sugar

1/4 cup unsweetened cocoa powder

1 3/4 cups boiling water

Vanilla ice cream or whipped cream, for serving (optional)
Instructions:
Preparation: Preheat your oven to 350°F (175°C) and grease a baking dish (9×9 inches or similar).

Dry Ingredients: In a mixing bowl, combine the all-purpose flour, granulated sugar, 1/4 cup of cocoa powder, baking powder, and salt. Mix well to ensure even distribution of ingredients.

Wet Ingredients: Pour in the whole milk, melted butter, and vanilla extract. Stir until just combined, being careful not to overmix.

Layering: Spread the batter evenly into the greased baking dish. If desired, sprinkle chopped pecans or walnuts over the batter for an added crunch.

Cocoa-Brown Sugar Layer: In a separate bowl, mix together the packed light brown sugar and remaining 1/4 cup of cocoa powder. Sprinkle this mixture evenly over the batter in the baking dish.

Boiling Water Magic: Slowly pour the boiling water over the top of the batter. It may seem unusual, but trust the process – this will create a luscious chocolate sauce layer during baking.

Baking Magic: Carefully transfer the baking dish to the preheated oven and bake for about 35-40 minutes. The top will set into a soft, cake-like layer, while the bottom will become a gooey, heavenly chocolate sauce.

Serving Sensation: Allow the Texas Mud to cool slightly before serving. Serve warm portions with a scoop of vanilla ice cream or a dollop of whipped cream for the ultimate Texan indulgence.
Variations and Customizations:
Tex-Mex Twist: Add a hint of heat by mixing a pinch of cayenne pepper or a dash of chili powder into the cocoa-brown sugar layer.

Texas Toppings: Elevate your Texas Mud with chopped Texas pecans or a drizzle of Texas honey for a local touch.

Coffee Kick: Infuse a splash of brewed coffee or espresso into the batter for a delightful mocha flavor.

Chocolate Lover's Dream: Sprinkle chocolate chips over the batter before baking for extra bursts of chocolate goodness.
Read Also: A Guide to Feta spinach crescent roll recipe
Conclusion: 
There you have it – a journey into the heart and soul of Texan comfort desserts, culminating in the delightful Texas Mud. This indulgent treat brings together the flavors of Southern tradition and the warmth of Texan hospitality. As you savor each bite of gooey chocolate, crispy edges, and creamy layers, you'll be transported to the heart of Texas itself. So, gather your ingredients, channel your inner Texan, and let the aroma of Texas Mud fill your kitchen as you embark on this sweet culinary adventure!