Seafood baked potato combines the two greatest gifts to mankind – seafood, and baked potato. It's easy to prepare and I'm very sure you'll love it.
How to prepare seafood baked potato
Seafood baked potato does not need a lot of ingredients so it most definitely won't injure your pockets. You can prepare the meal with the help of a microwave oven but I'd highly recommend you use an oven.
Why? Because if you bake with an oven, the potatoes will be much more crispy, which will go really well with sauce.
Okay, let's get to the steps now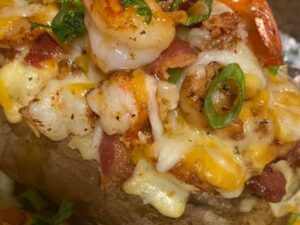 Preheat the oven to 425 degrees
You'll need salt (preferably sea salt)
You'll need oil (preferably canola or olive oil)
Wash the potatoes thoroughly and dry them with a towel (paper). Make sure there's no moisture on your potatoes when you've dried them.
The baking part
For this, it's not necessary to use foil paper, you can instead line your baking sheet with parchment paper. Done?
The next step is to put some holes on each potato with a fork.
Rub each of them with oil and sprinkle with salt.
Bake in the oven for about an hour.
Once it's done, cut a split down the middle of the potato. Don't cut through the under side of its skin.
Get a bowl and scoop out the insides of the potato, keep them inside the bowl. Also make sure the potato skins are well reserved and kept intact.
What about the sauce? How do I make it?
To make the sauce, you'll need
Half a pound of shrimp (medium or large)
8 oz. Crab meat
6tbsp salted butter
2 medium or small lobster tails with its shell removed. It should also be cut into ½ inch pieces
⅓ cup of dry white wine
3 tablespoon of grapeseed oil
½tsp black pepper
2 cups of heavy cream
1tsp of onion powder
1½ Paprika
1/2 tsp sea salt
2 tsp fresh and chopped paprika.
All purpose shrimp seasoning
As for the shrimp, you can buy it already peeled and de-veined from the store, but if you want to do it yourself, you need to be extra cautious because it's easy to get food poisoning from sea foods
How do I de-vein and peel shrimp on my own? (you're free to scroll past these if you already know how)
Before I begin, I just want to clarify that the black thin lines you see on shrimp, you know, the ones you call its veins, aren't exactly its veins but the digestive tracts. Doesn't make it any less gross but at least you've learned something.
To devein your shrimp, you'll need
A paring knife
A cutting board
A pair of kitchen shears
A pan covered in ice so the shrimp will remain chill while you're working
The next step is to remove the shrimp from the fridge and place them on the tray of ice, and if the shrimp is already frozen, place them in a bowl of cold water and let it sit for 30mins until it's thawed.
How you'll devein the shrimp depends on the recipe. If the recipe calls for the shrimp to retain its shell, use the kitchen shears to cut along the outer shell of the shrimp's back to be able to reach the vein. Use your fingers or the tip of the knife to slide out the vein.
If the recipe calls for the shrimp to not retain its shell, twist off the head, legs, and tail if it's still attached. Use the paring knife to make a slit along its back and then carefully remove the veins.
Rinse the deveined shrimp in cold water.
Back to the sauce recipes
As for the crab meat, you could use lump crab meat. However, ensure you pick through it thoroughly to remove any shell that's stuck in it.
Remove the shells from your lobster tails and cut into half inch pieces.
Pour oil into a ten inch skillet and then heat it up. Sear your shrimp on each side for one minute.
Reduce the heat to medium and then de-glaze the pan with white wine in order to remove any drippings from the bottom of your pan.
Put in some butter and when it melts, add some garlic. Allow the garlic to saute for 2 minutes in low heat.
Add seasonings and heavy cream. Stir, and bring to a simmer before adding pepper, paprika, salt, onions and the uncooked lobster.
Cook the sauce for 7 minutes and then add your shrimp and crab.
Continue to simmer before adding parsley (fresh)
Voila! Sauce fit for a king.
How do you bake the potatoes with a microwave?
Potatoes can be baked with the help of a microwave oven, and more people do it than you think. The steps are quite similar but you'll have to wrap each potato in a plastic wrap as opposed to baking in an oven where you'll need baking sheets.
Microwave the potatoes for 9 minutes. It's also best to microwave two at a time.
FAQ about seafood baked potato recipe
Why do we need to poke holes in the potatoes when we're baking in the oven?
Holes are poked to give them the chance to let out air. It'll help the potatoes cook more properly.
Can I add cheese?
What can't you add cheese to? It's obviously optional but you can add cheese to it, you could use American cheese.